Dell QLE220 Fibre Channel Host Bus Adapter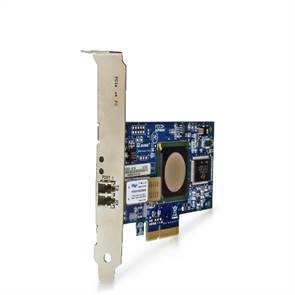 Dell's QLE220 is one of the first 4Gbps HBA targeted for the SMB market in the industry. Offering 30,000 IOPS at 4Gb Fibre Channel speeds, the QLE220 provides SAN connectivity at DAS ease-of-use and price, with higher efficiency and reliability to the SMB end-user who is using SMB storage. The QLE220 has been carefully crafted in terms of design, software, documentation and support-methodology, customized to meet the needs of the SMB end-user. This HBA also includes GUI-based management software with installation wizards, making it ideal for IT managers who may not have the time, training or staff to quickly build and manage a SAN.
The item you have selected is not available for purchase online. Please contact your sales representative to purchase.








Highlights

Dell Single Channel Fibre Channel Host Bus Adapter for SMB

Extremely Easy-to-Use - Enhanced wizard based installation, auto-configured software, pre-configured factory settings, and simple/graphical user documentation

Low-Price: Carefully crafted for the SMB segment, this card eliminates components and thins features that are typically required by enterprise customers.

Built-in Robustness: Meticulous design, limited components, and a rigorous component evaluation result in extremely high MTBF (Mean Time Between Failures).

Proven Quality: Mature architecture and design, coupled with exhaustive and meticulous tests makes this FC HBA rock-solid.

Performance: Offers 4Gbps speed with up to 800MBps throughput via the PCI Express x4 host bus.

Enhanced Training & Documentation: Web-based training on SAN, a step-by-step Quick Start Guide, and localized documentation enable easy adoption of the Fibre Channel HBA.